What's a Toy Hauler
Toy hauler RVs are very popular because the large garage space can be used in many different ways.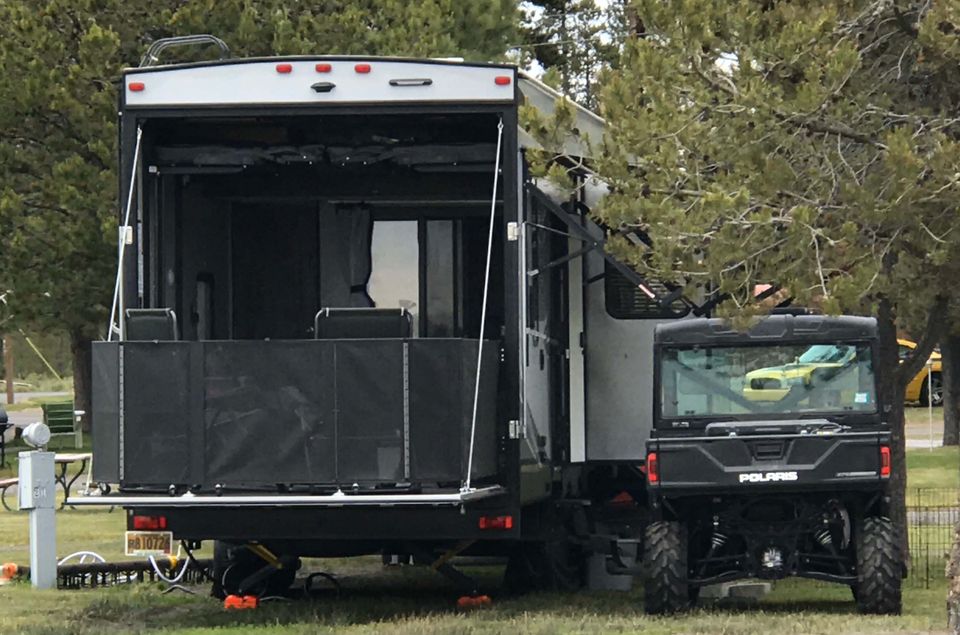 An On-Board Garage is a Unique Design for an RV
In the full spectrum of all types of RVs toy haulers fill a unique niche. In essence they are recreational vehicles with a garage built right into the RV.  They are unique, like fish house RVs that are built for ice fishing, or horse trailer RVs that are both an RV and a horse trailer.  Toy haulers were created for a unique application and were originally designed to transport a vehicle, ATVs, or motorcycles, inside the RV's structure.  Toy hauler garages are most often built into a variety of fifth wheel floorplans, but there are also a few motorhomes and travel trailers that have a garage behind the living compartment.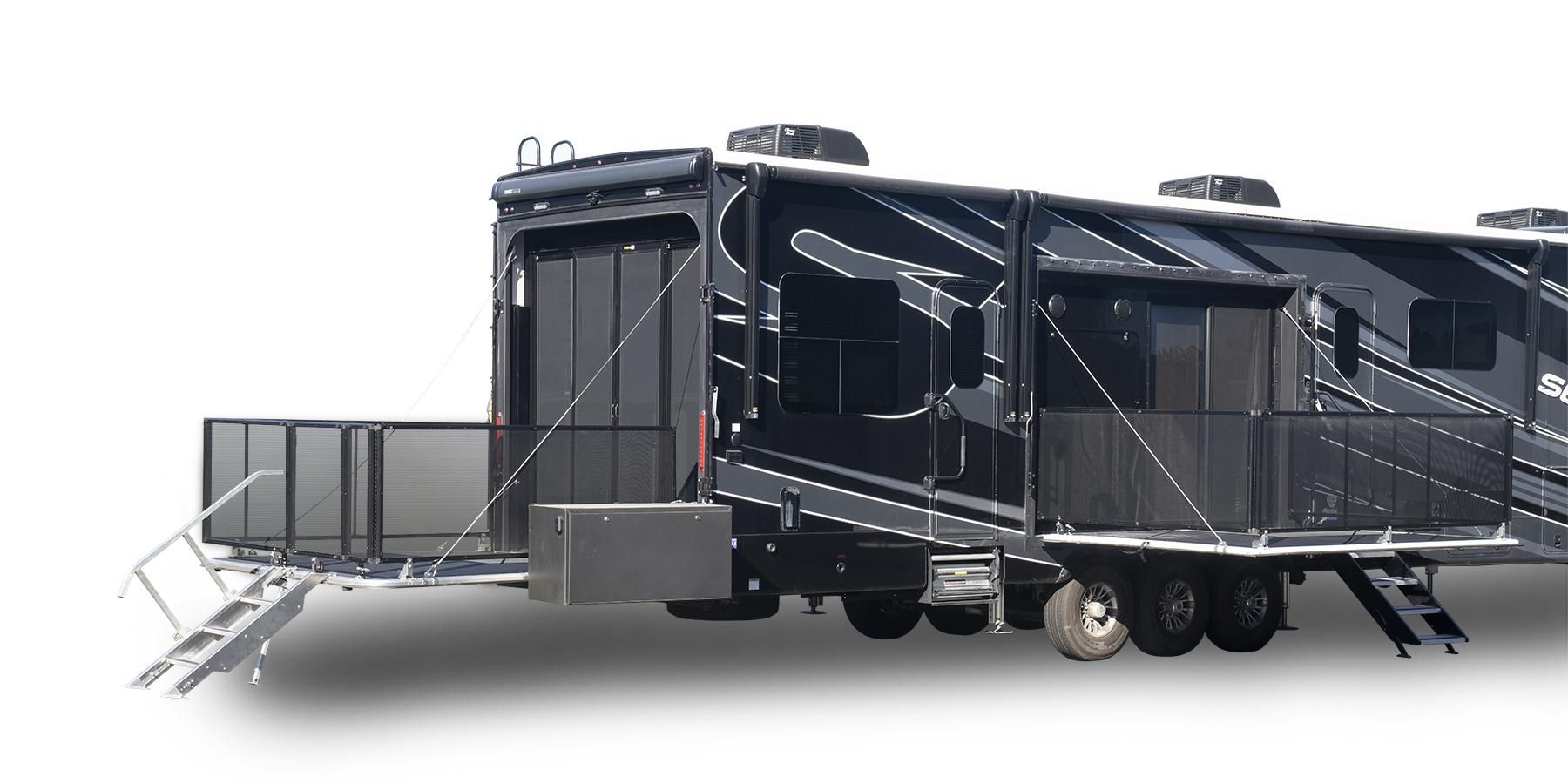 Garages All Have a Ramp
One common feature of toy hauler designs is the back of the RV drops down to create a drivable ramp so the extra vehicles can be driven up the ramp and into the garage. But toy haulers are not exclusively for hauling extra motorized equipment. The large space that makes up the garage can be used for a variety of purposes.  Many of these floorplans have drop-down beds, folding couches, removable or folding tables, a washer and dryer, and extra elevated storage.  The garage area is a multi-purpose space and can be used as an indoor play area for traveling kids, as an extra bedroom for a family, or as a place for kids to home school. Some people use the garage as a mud room for their pets, or as an office, or a hobby room.  Many of the ramps can be elevated to a flat outdoor patio area that is conveniently attached to the back of the RV.  Some of the patios also include a railing to keep pets or kids confined.  Access to the patio is through a door between the living portion of the RV and the garage, then out of the garage through a two-panel magnetic screen that keeps bugs out of the garage and the RV.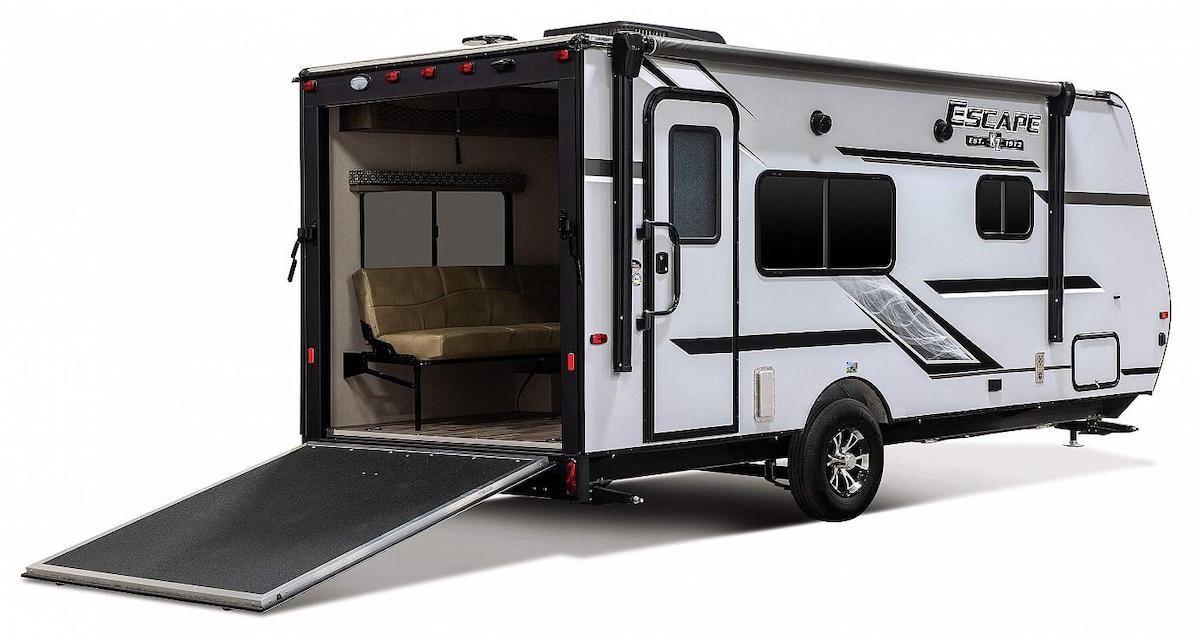 Extra Weight
There are many uses for the garage but before you decide to buy a toy hauler to haul several ATVs or motorcycles, be sure to consider the extra weight of your load.  The garage is at the very back of any RV type and putting several thousand pounds of touring motorcycles, ATVs, or a small car, behind the rear axles can create a dangerous weight imbalance.  If you are going to use the garage for a heavy load you should shop for a toy hauler with triple axles rather than a tag axle and you may also need a larger truck to tow this heavy load. If you are going to use the garage as a separate bedroom and play area for the kids, this would not create an imbalanced load so a single or tag axle might be just fine.
Larger Campsites
Another consideration to keep in mind when you're thinking about buying a toy hauler is the size and type of campsite, you'll need to be able to easily access the ramp and/or patio. If the toy hauler RV is already 45 ft. long and you want to access the motorized equipment in the garage while parked in your campsite, you'll need enough space to lower the back ramp and remove the equipment.  If you're camping in an ATV staging area or ATV park, this will probably not be a problem, but if you're in a back-in site in a state park, campground, or RV park, you'd need to pull all the motorized equipment out of the garage before backing the RV into your site, then you'll need to find an appropriate place to park the ATVs or motorcycles after you get your fifth wheel set-up and the truck you use to tow the fifth wheel into your site.  That is a lot of gear and many RV parks just don't have that much extra space in their campsites.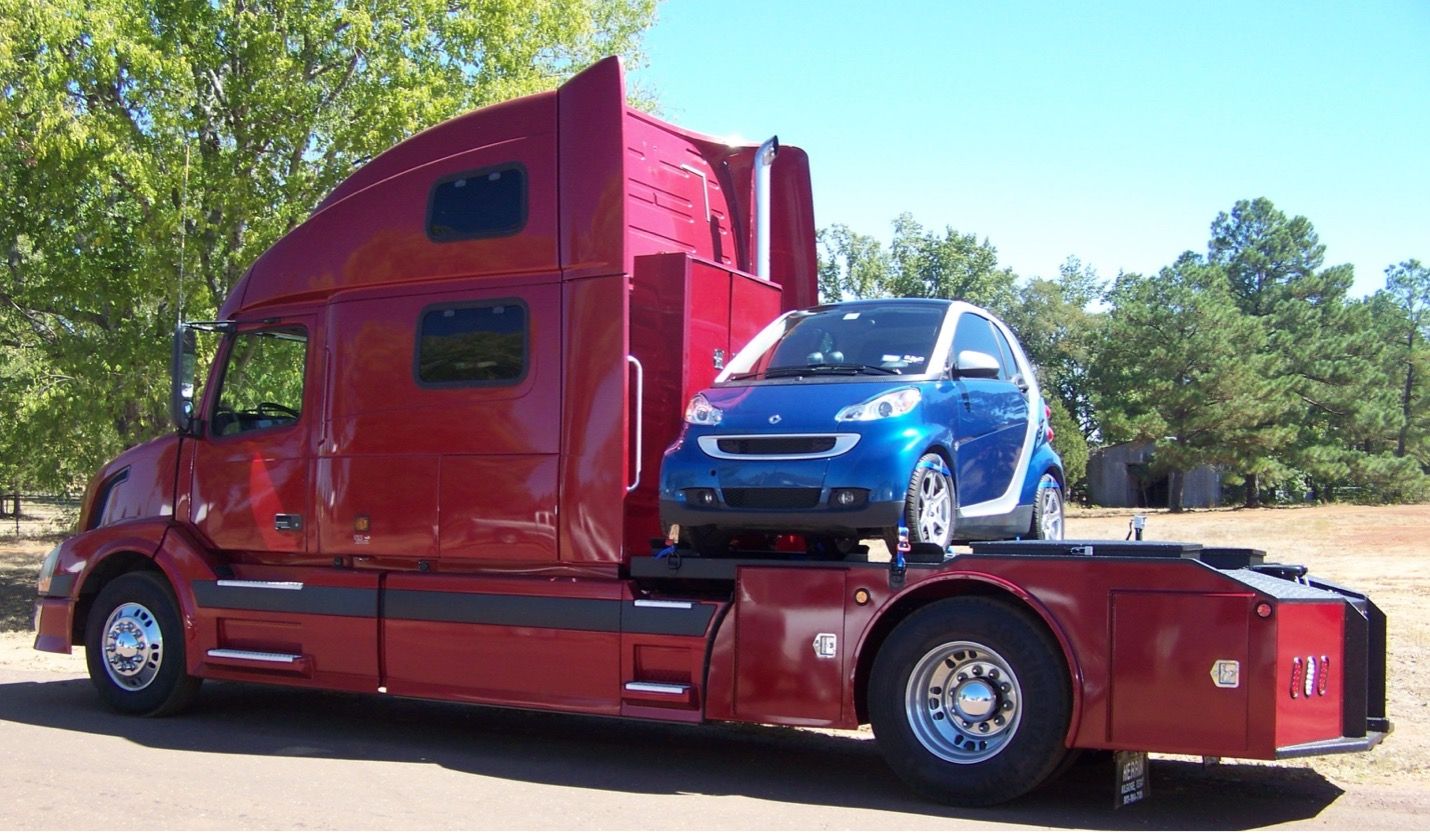 Extra Planning for a Trip
We know a couple from Alaska who travel with a 45' toy hauler fifth wheel which is towed by a semi-truck. The cab in the semi is large enough to have a small cabin (galley, sleeping area, and bathroom) behind the driver's and passenger's seats.  Behind that cab and cabin there's a platform where they park a smart car, then there's the coupling mechanism for the fifth wheel and finally the 45' fifth wheel trailer.  This whole set-up is over 70 ft. in length before the rear platform of the toy hauler is dropped down to make a patio.  This couple lives in Alaska, but they have traveled extensively in the lower 48 states and Canada.  They have driven this set-up from one coast to the other, and back again, but Karen says it takes a huge amount of planning to locate and research suitable campgrounds for their oversized rig. What is truly remarkable about their set-up is the only reason they have a toy hauler (after all, their smart car is loaded on the back of the custom-built semi) is to have a hobby room where she can continue her hobby while they are traveling, plus they like to sit outside on the patio with their dogs.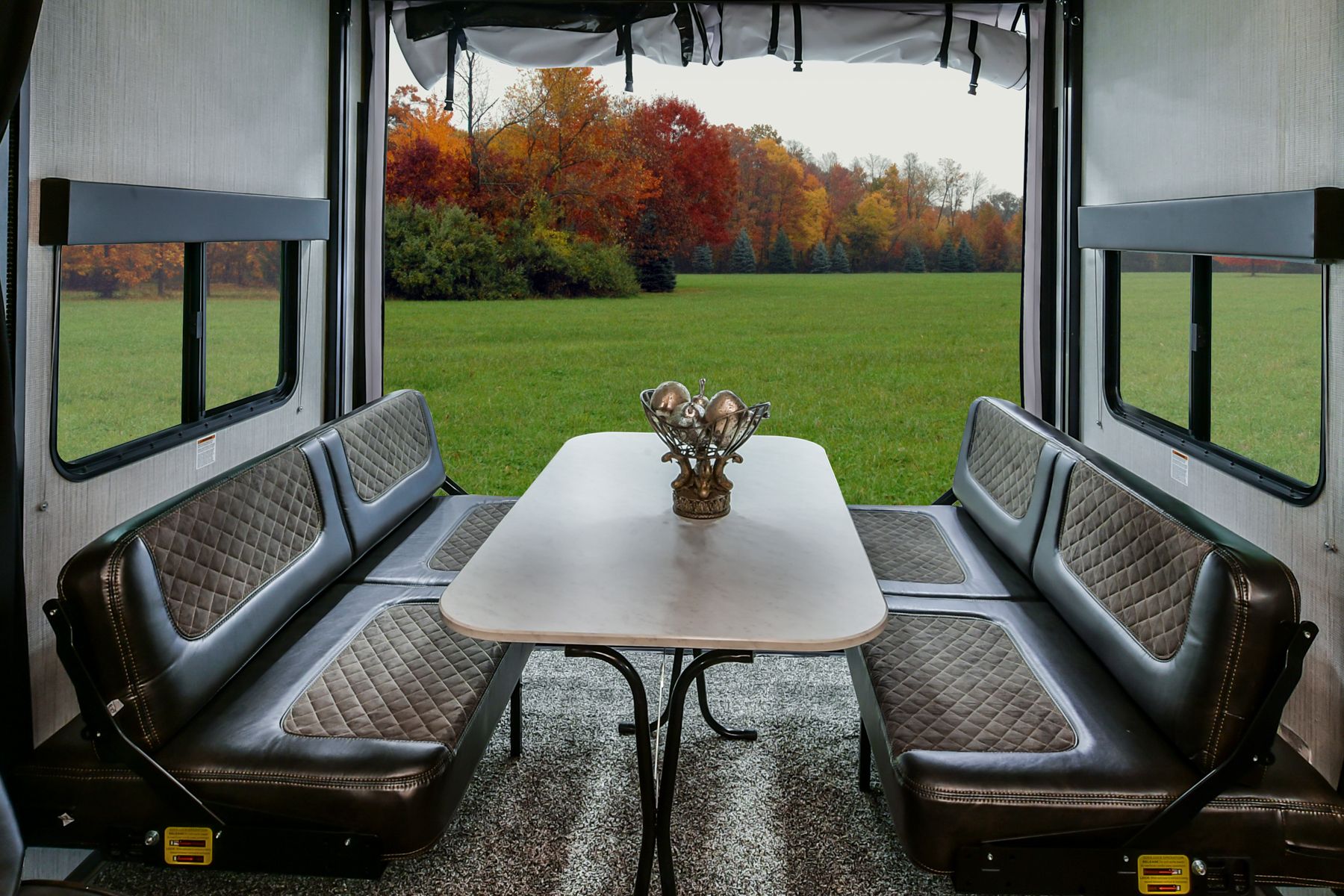 If You're Not Sure About a Toy Hauler, Try Renting One
Toy haulers are a unique type of RV and fill a niche because the large open garage space can be repurposed for many uses, but they also may require extra space for loading and unloading motorized equipment, and overloading the garage with a heavy payload may cause the entire set-up to be dangerously out of balance. None-the-less, toy haulers are wildly popular. RV Trader has over 13,000 toy haulers for sale at this time snd they are growing in popularity. If you're unsure if a toy hauler will meet your needs, you might consider renting one before you buy one. You can find rentable toy haulers here on Outwander, the online RV rental website.