How Much Does It Cost to Camp in an RV Park?
The typical cost for most campsites is between $30 to $90 per night. However, there are many variables that impact the cost, which gives you options and control over your budget.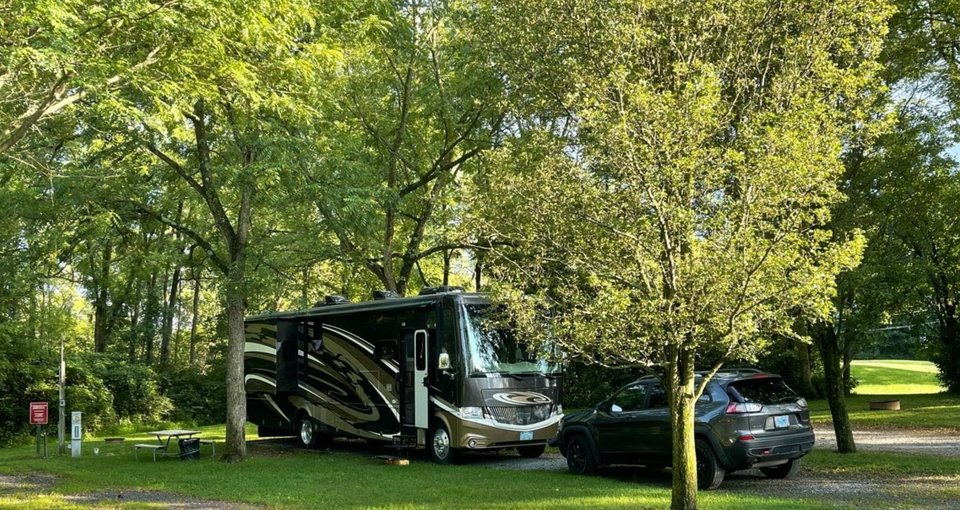 The question, How much does it cost to camp in an RV park? is a complex question.
But to give you a general sense of the range of prices, the cost varies from $9 or $10 per night all the way up to a couple of hundred dollars per night.  The typical cost for most campsites is between $30 to $90 per night.  However, there are many variables that impact the cost, which gives you options and control over your budget. Consequently, if you're trying to camp on a strict budget, you can take advantage of the variable listed below to manage your nightly or annual camping costs. To help control the costs, you can use discount membership programs, camp off season, select parks with fewer amenities, choose sites that don't have a view, or make long term camping commitments, to save on camping fees.
Save Money by Comparison Shopping
There are many ways to reduce the cost of camping, but it takes planning and diligence.  You'll need to shop and compare different parks in the area where you intend to camp.  Fortunately, there are many online resources, to help you locate RV parks and make reservations. It's easy to download multiple free apps that display campground locations and provide reviews to help you compare parks.  Many of these apps, like RV LIFE Campground Reviews, provides extensive peer to peer reviews, including the prices paid by other campers, the type of RV the reviewers were using, and links to the campground's website, which makes the whole process easier and more transparent.  There are even trip planning and navigation apps like RV LIFE Trip Wizard and RV LIFE Safe GPS that will help you define your adventure, locate campgrounds, record the duration of your stay, calculate your fuel and recreational budget, find RV safe routes and generally keep track of all the details of your adventures.  Additionally, for a nominal fee you can access a vast network of Harvest Host camping locations where you can spend a night or two on the private property of a vineyard or country farm and only pay a courtesy tip to the property owner.
Prices Vary Depending on Amenities
The actual amount you will pay for a reservation in an RV park depends on a wide array of variables which are listed below. Knowing what factors impact the price gives you more control over the costs and over your budget. Spaces within a park may be priced differently depending on the site's amenities, view, size of the site, and its location within the park.  
Prices Vary Depending on the Season
Additionally, the same site may be priced differently in different seasons.  
The peak season, for the northern part of the US and Canada is in the summertime, but the winter months are the peak season for the sunbelt, (the southern part of the US).  There are different rates for the different seasons and in Canada, there is a third season with its own unique rates, called the Shoulder Season.  The Shoulder rates apply to the month immediately preceding or following the peak season and in the US this time period may be identified as the discovery season with unique applicable rates, just like in Canada.
All the seasons, have different rates based on demand and these seasonal variations can have a significant impact on the costs of camping in any campground.  

Daily Variations
Campsites within a park may be priced differently based on the day of the week or the duration of your stay. When these variables apply, then you'll find that weekend rates will be higher than weekdays. Also, a daily rate will be the most expensive option.  Weekly rates may equate to approximately 6 daily reservations, so you may get a day of free camping in a weekly reservation.  If monthly rates are available, they will be even less than the weekly rate.  For example, a park's winter rate might be $45 nightly, $260 weekly, and $650 for a month-long reservation. As you can see, longer stays in one location will greatly reduce the cost of camping.
Example of Price Variability within a Park
One of our favorite campgrounds is Winchester Bay RV Resort on the Southern Oregon Coast. Every site has a view of the harbor or a view of the Umpqua River as it flows out to the ocean. Every site is paved, with full amenities, including picnic table, fire pit, grassy space between the sites, 50-amp power, water, and sewer hook ups.  The park has several lovely laundry and rest room facilities and everything is immaculate, clean, orderly, well maintained and in good repair, but the costs for sites within this park are vastly different. For example, their winter rates range from $128 for a deluxe waterfront site to $35 for a small interior site. In this park the location within the RV park, the size of the site, and the season, determines the cost.
Small Saving Membership Programs
Another one of our favorite RV parks is Juniper Reservoir RV Resort in the high desert of south-central Oregon just North of the Nevada border. This campground is in the middle of a 5000-acre cattle ranch.  The cost for an RV site depends on whether it has a sewer hookup or not. Everything else about the sites are the same and they don't offer winter rates because the park is snowed in during the winter. All their sites cost either $50 with sewer or $45 without.  However, they do offer a Good Sam discount of 10%, so if you are a member of Good Sam, you could shave $4 or $5 off the nightly cost. These small discount membership programs are often available in a campground, and it pays to ask.

Large Saving Membership Programs
Some discount membership programs may result in a small savings like the example above or they can provide significant savings depending on the type of membership and what the park has to offer. For example, we are Thousand Trails members, and we are currently camped in an RV park for two weeks, but we are paying nothing for our campsite. This is a huge park near Hamburg Pennsylvania, that has a few hundred "seasonal sites" which are reserved for long term rentals, but it also set aside numerous campsites for Thousand Trails members.  Many of the Thousand Trails sites have full hookups including sewer. Another park located in Hersey Pennsylvania is wholly occupied by Thousand Trails transient campers, meaning that there are no seasonal (long term) campsites in the Hersey Park. We camped in this campground in a large site, near a small lake for two weeks and paid nothing. Our site and almost all sites in this park have full utilities and large grassy, level sites, with trees. The park offers a wide selection of recreational activities, with basketball and tennis courts, pools, miniature golf, an ice cream parlor, and lots of planned activities for kids.

More About Membership Discounts
Discount membership programs have varying costs and offer different discounts. For example, Good Sam, Passport America, and KOA each cost about $50 annually, and you can generally save that much or more in just a few outings.  Other memberships can be much more costly.
We paid over $3000 for a Sound Pacific membership which only gives us access to two parks in Oregon. We can camp in those two parks for two weeks at a time and pay nothing, and if we wanted to, we could just go back and forth between these parks, (which are located about 230 miles apart) and literally pay only the annual membership dues of $430.  It's not practical or desirable, but it is possible.  In that scenario we could camp 365 days a year for a total of $430 plus the gas to travel back and forth from the Oregon coast to the high desert.
Another more costly membership program is Thousand Trails. You could join this group for a minimum of about $550 annually. Or you could sign up for one of their more costly levels of service, which offers different benefits. There are many different benefit packages and many different prices, ranging from the minimum annual dues up to the premium Wilderness Collection package which costs over $13,000 plus annual fees. Frankly, I think their benefit packages are confusing, but if you ever intend to go full-time in an RV a deep dive into these more costly membership programs might help you control your camping costs.  After all, if you are camping for 365 days per year and paying $45 per night that would cost over $16,000 so paying a few thousand dollars for a membership program that could provide free camping for even half of those days could save $8000 in annual camping fees.  Thousand Trails members have access to approximately 180 parks (with trails collection package) nationwide and you can camp for two weeks and pay no daily or weekly camp fees.  Thousand Trails may be the best-known camping membership program, but it is not the only one so be sure to investigate this further if you ever become a full-time RVer. However, if you are only going camping occasionally, these programs are probably not worth the initial fees and annual dues.
Different Types of Parks are Priced Differently
In addition to seasonal and locational variations in price, the type of RV park will also impact the cost of a campsite.
State and Provincial Parks
State campgrounds across the country are typically priced in the $30 to $60 range but many of them have limited utilities.  For example, Starved Rock State Park in Illinois, costs only $30 per night. It offers large private campsites with water and 30 amp power only.  Many Provincial Parks in Canada cost approximately $30 USD per night but many have no utilities. These parks are generally beautiful, clean, and spacious, but camping in a Provincial Park is basically boondocking with a picnic table and firepit.  The same is true for Birch Bay State Campground in Blaine Washington.  The cost to camp there in an RV site, starts at $27 night but many of the sites only have a fire pit, and no picnic table or utilities.
Forest Service Parks
Forest Service campground offer some of the best views and access to lakes, streams, and hiking/biking trails, but they are typically rustic campgrounds with limited or no hookups. The price for many Forest Service campgrounds can be as low as $9 per night.
Boondocking at Quartzsite AZ
One of the largest gatherings of RV campers in the country occurs every winter in Quartzsite AZ.
The camping options at the annual Quartzsite swap meet are mostly just boondocking sites in the desert, but you will still need to register and pay a small fee of approximately $10.  There are several developed campgrounds in Quartzsite but they fill up quickly and even those have limited utilities. Thousands of RVers flock to this annual event and spread out for miles across the desert.
Private and Glamping Campgrounds
Private RV Campgrounds and Glamping (glamorous camping) Resorts offer a wide array of amenities, services, and activities, up to and including, a suggested wine selection at glamping resorts. These parks may have pools, spas, pickleball courts, activity centers, and even some fine dining options onsite. Some of these high-end resorts might offer a stunning ocean side view of the Gulf from one of the Florida Keys or be located high in the mountains in Wyoming or South Dakota or be tucked into a hidden cove along the Pacific coastline.

Most of these parks are gated camping communities and may limit the type of RVs permitted in the campground to only Class A motorhomes, or RVs newer than 10 years old.  A camp site in one of these luxury parks might offer paved covered pads with private outdoor gas BBQ, furniture, gas firepit, and craftsmen picnic table.  If luxury camping is your preferred option, then you should plan to spend a few hundred dollars a night for a large, meticulously appointed campsites, or perhaps you'd rather purchase one of the sites, and then put it in the rental pool when you're not using it.
Conclusion
By now you realize that the answer to the question How much does it cost to camp in an RV park? depends on the season, the type of park, the amenities of the park, the amenities of the site, the location of the site within the park, and any discounts that you might be able to apply.  Fortunately, there is a huge range of prices and you can easily manage any camping budget if you do your research and use the free online apps like Campground Reviews and Passport America.

Author: Peggy Dent
I am an author, writer, and full time RVer traveling around the US and Canada. I've traveled more than 130,000 miles in an RV over the last 20 years.