Have More Fun in Your RV Rentals with Helpful Apps
Smartphone apps can make all the difference in the RVing experience, by reducing stress, providing valuable information, helping you define a plan and document your adventure.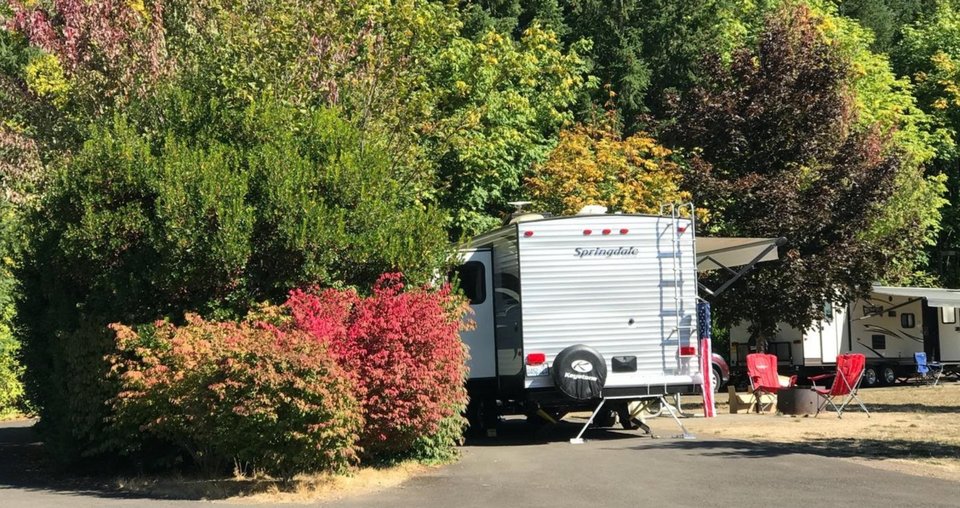 Smartphone apps can make all the difference in the RVing experience, by reducing stress, providing valuable information, helping you define a plan and document your adventure. There are many smartphone apps that you can download for free or purchase for a nominal fee, that will make your RV rental experience from Outwander more fun and a wonderful memory you'll cherish for a lifetime.
Finding Suitable Campsites
One of the most daunting parts of renting an RV and taking a road trip is figuring out where to camp each night.  In the distant past (2009 and beyond) the only resource for finding an RV park along your route was a huge printed book called the Woodall's Directory. It was a lot like an old fashion phone book: big, heavy, super thin pages, with tiny little ads on every page. It was organized by states, then by city in alphabetical order, which assumed you knew all the names of the little cities and towns you would be traveling through on your route. After all, the towns were so easy to identify on the horse blanket size folding maps we all used for directional navigation.
Camping Before Apps
We started our RVing adventures in 1999 and that was how we figured out where we were going and where to camp.  Half the time we didn't even know we were approaching a town until we arrived there and read the welcome sign, so it was difficult to look ahead and find RV parks or campgrounds along our route.  Even if we could identify a town on the map and we could find campgrounds listed in the Woodall's Directory in that town, we still had no information about the campgrounds. The ad didn't list any details. It just gave the name, address, and phone number, and in larger ads it might include some directions, but unlike campground websites today that show pictures of the park, a site map, camping rates, and park amenities, the Woodall ads told you nothing about the park. It didn't say if pets were welcome, if the sites had hook-ups, or even if the park welcomed transient guests (transient guests are travelers who only camp for a night or two, as opposed to people who rent RV spaces by the month).  On many occasions we'd struggle to locate an RV park or campground, just to find out they didn't have any sites available, or pets were not welcome, or it looked like the scary children-of-the-corn people were hanging out there.  

You're probably thinking, "well, why didn't you just call ahead and ask for directions, ask if they had available spaces, if they welcomed pets, and would they rent to transient travelers," but I must remind you that I'm describing experiences that occurred 10 years before the invention of smartphones and, are you sitting down… before the creation of the world wide web!  Wow, that even sounds weird to me, and I lived through it.
Download Campground Apps
Anyway, it was a real challenge finding campsites back then without the internet, without smartphones, without websites, and without apps. Now, the whole experience is different and less stressful because you can do your research, check out a park's website, read reviews, confirm availability, and book your reservation all on the internet. There are apps like RV LIFE Campground Reviews, Campspot,  RV Parky, ParkAdvisor, AllStays, Passport America, and KOA, that will provide detailed information about what other campers (just like you) experienced in any given campground. Sometimes the reviews are contradictory, and you'll need to evaluate the veracity of the information, but more information is better than no information. As a side note, we have read contradictory reviews on parks then went to the park to see for ourselves which reviewer was providing the most accurate information.  We have often found that both reviews are correct, and it might depend on which campsite you're in, or what season or even the day of the week when you are in that park.  
One campsite was described as noisy by one reviewer and quiet by another. This park was only about 300 yards from a motor speedway. On Saturday and Sunday, when the races were in progress it was extremely noisy, but the rest of the week it was very quiet.
We've been in RV parks that were described as having really tight campsites with limited room between rigs and other reviewers described the park as having spacious roomy campsites. So, which is it? To our amazement it was both, and we camped in both sections in this park on different occasions. One loop in the park has very unlevel gravel sites that were literally on top of each other, and another part of the same park has spacious level campsites with lots of room on both sides and no other rigs in front or in back of your site.  
Another campground was described by the reviewer as a sloppy mess. "The roads were all just mud puddles and potholes and the sites were flooded and muddy with tree debris everywhere". Other reviewers described this same park as one of their favorite destinations with spacious grassy sites and full hook ups.  We have stayed in this campground, on the Oregon Coast, in both the summer and winter and both descriptions are accurate.  The contradictory conditions described by the reviewers was determined by the season.
Even though you may read conflicting reviews, reading about other camper's experiences, and seeing the overall rating for a park, is generally helpful in making decisions about where to camp. Campground review and location apps are free, and they give you the opportunity to investigate potential campgrounds before you commit. Additionally, to save time, you can use the links in these apps to the park's website where you can get more detailed information about amenities, availability, current rates, and to make online reservations.  

Plan Your Trip
Additionally, there are smartphone apps that will allow you to plan almost every aspect of an upcoming trip and to record important details about your adventure while you travel. The RV TripWizard app lets you record your designated route and every campsite along that route where you intend to stay. You can record everything from the arrival and departure dates to the cost of gas and meals at every location along the route, and you can make notes about the journey and/or campsites.  It's a great way to plan a trip, keep track of reservations and to document the whole trip as you are living the adventure.  
Keep Notes
Good Sam's website has campsite reviews, and their app lets you make notes about campgrounds which could be a helpful record for future adventures.  Before we bought our first RV, we spent almost every weekend driving all over Oregon visiting campgrounds and RV parks. We collected park maps and made notes on the maps about various sites inside the campground that would accommodate the RV we intended to purchase. We assembled these maps in a 3-ring binder and when we finally did purchase our first motorhome, we had some great ideas of where we wanted to go camping.  Remember this was before the internet.  If we were to do that planning process now and anticipating the purchase of our first motorhome, we would be able to record all those notes in one of these apps with live links back to the park's website. It would be a much better way to create a personal database and a lot less cumbersome than bulky 3-ring binders.

Safe GPS
Another app that will make your RV rental from Outwander more fun, and safer, is the RV LIFE Safe GPS app.  The entire RV LIFE suite of apps only costs $49 annually and that gives you access to both RV TripWizard and RV Safe GPS.  Campground Reviews is free, or you can download it as part of the RV LIFE suite of apps.  The Safe GPS is a critical navigational aid if your RV rental is a big rig, (either a motorhome or a fifth wheel trailer).  It could also provide important route information if you're towing a large travel trailer.  In the Safe GPS app, you put in the dimensions of your RV, weight, height, length, etc. and then use it like Apple or Google Maps to show you a route to your desired location.  If there are bridges with weight limits, or low overpasses, or roads not recommended for long vehicles, or tunnels that prohibit propane, the Safe GPS will show you alternate routes around the hazard.  Routes that are unsuitable for your RV will be shown in pink, as auto routes.  Prior to the availability of Safe GPS we encountered many roads that were just plain scary and unsafe for a large motorhome.
On one occasion we were driving our RV through a high mountain pass on a stormy day. The road was a narrow winding gravel road climbing up the side of a mountain. Fortunately, we didn't encounter any opposing traffic, because we needed the whole width of the road to navigate through this pass in our 33' motorhome.  When we arrived on the other side, we looked back at a sign that was posted for the opposing traffic and realized that the pass was closed to all traffic. There was no such sign on the road we had taken to get there, and we are very fortunate that we did not get stuck on that road, because there was no civilization and no traffic, and it was many years before cell phones were available.

Apple and Google GPS May Not Be Enough
A Safe GPS app, in fact any GPS app, would have been helpful in that situation.  But Apple or Google GPS are generally not enough if you are traveling in or towing a large RV.  For example, GPS will show you many routes that would be fine in a car, truck, or van, but you should not drive or pull a big rig on many of these roads. For example:
Crater Lake National Park's rim drive, in Oregon.
SR 104 outside of Niagara Falls, in New York
Many of the Rocky Mountain passes, in Wyoming
The McKenzie Pass scenic byway, in Oregon
The main road through Starved Rock State Park, in Illinois
Mill Creek Rd outside of Kenisee Lake RV Park, in Ohio
Or the Holland Tunnel leading into and out of New York City

…just to name a few hazardous or impassable roads we have encountered in our travels. We've crossed narrow bridges with weight limits and literally held our breath. We've driven through a one-way tunnel that was so narrow we would not have been able to open our RV door and we just crept through it expecting to hear scraping sounds from the roof air conditioners against the top of the tunnel. We've encountered overpasses and bridges and tree limbs that were too low for our rig, and many other road hazards that you can and should avoid by using the RV LIFE Safe GPS.
Conclusion
You rent an RV to relax and have some fun. You may be on (or planning) your very first RV trip and I want to encourage you in this pursuit, by suggesting that you take advantage of all the technology available today. It has never been easier to go RVing. You can identify a safe route with Safe GPS, plan your trip with Tripwizard, research campground with peer-to-peer reviews in any number of apps, and document your trip in the Good Sam app or use a journaling app like Day One to record a written and visual record of your RV adventures.

Author: Peggy Dent
I am an author, writer, and full time RVer traveling around the US and Canada. I've traveled more than 130,000 miles in an RV over the last 20 years.