Buying vs Renting an RV, a Cost Comparison
Renting an RV might be the perfect solution for your needs or maybe buying one fits your lifestyle better.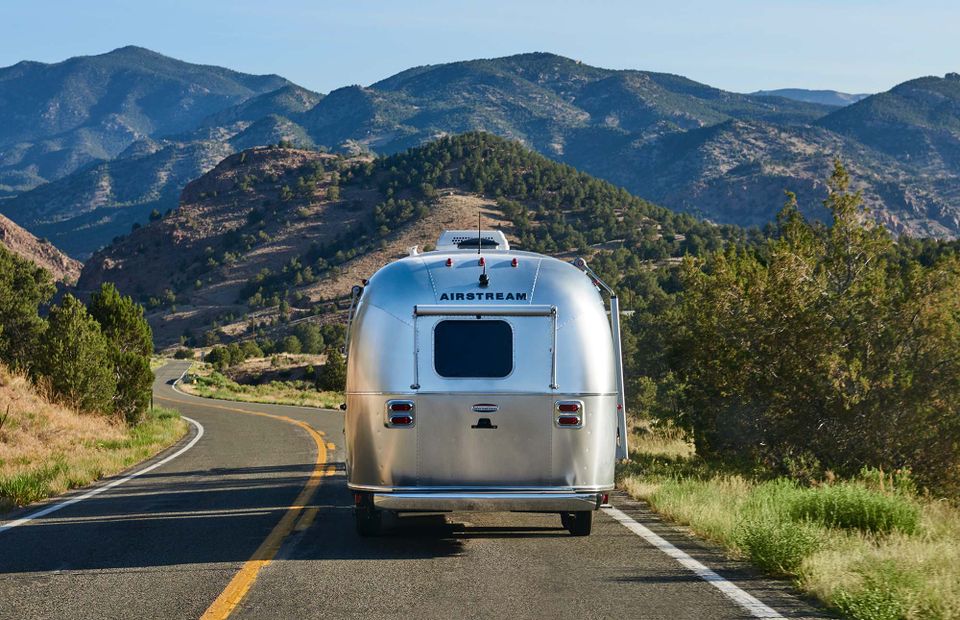 One-Time Rental for Epic Vacation
The ultimate decision regarding buying vs renting an RV comes down to your intended use. If you just want to take one epic cross-country journey for a few weeks or a month and then be done with it, certainly, renting an RV makes the most sense.  You'll just pay for the use and that's all, much like paying for a cruise, or buying airline tickets and making reservations at a hotel.  When your vacation is over and you've gone where you wanted to go, you return the vehicle, pay any overage fees, and that's the end of it.
Rent Before You Buy
Another example of when it makes sense to rent an RV rather than buying one is if you are considering purchasing an RV but you have no experience with RVs. You may need some time in a few RVs to really understand your own camping preferences.  If you don't know what type, what size, or what amenities you'll need, it makes sense to rent a few different types to see what fits your personal style.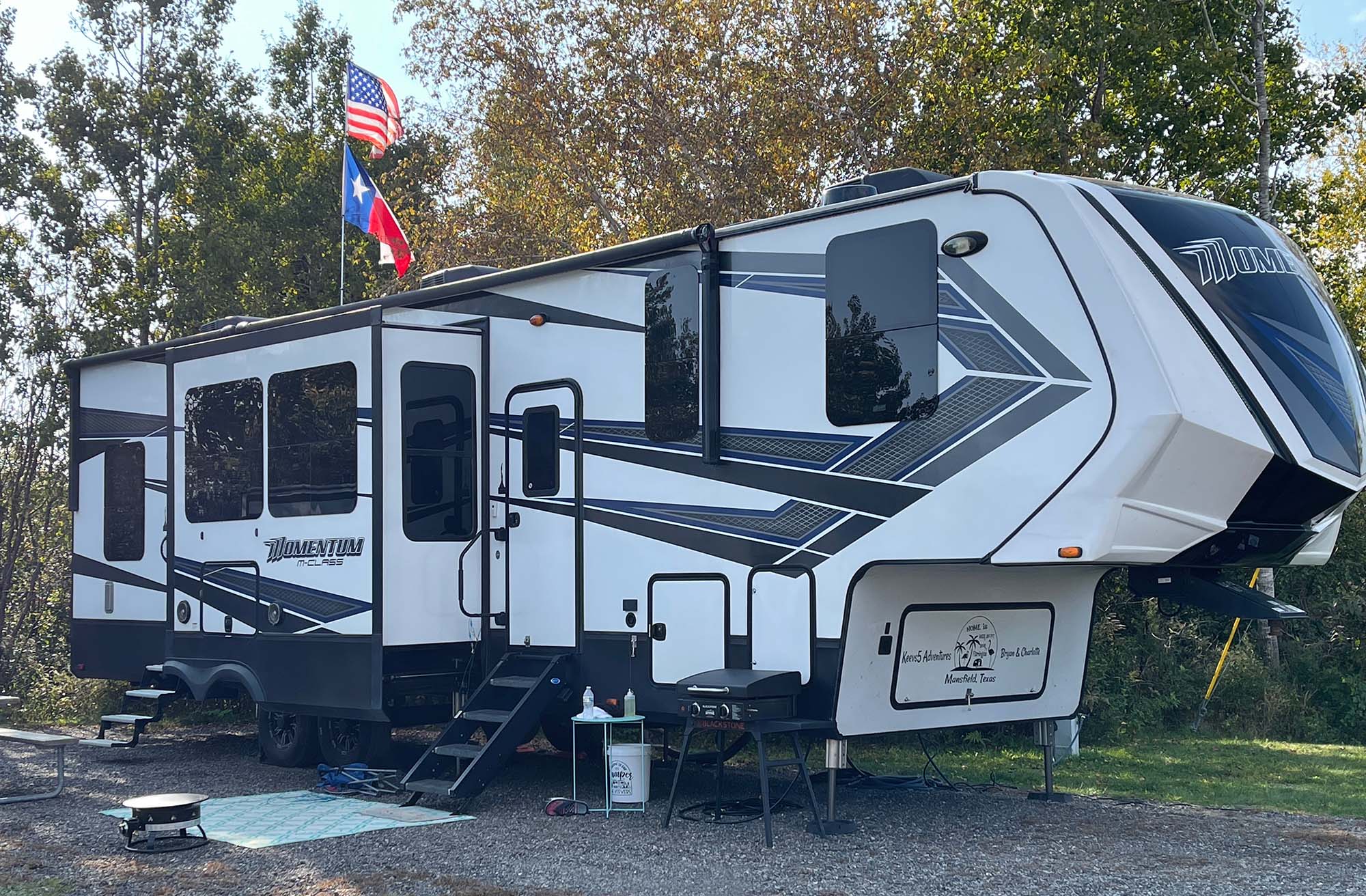 Case Studies of Why It's Important to Rent an RV
In our travels we've met numerous campers who bought the wrong type or size of RV. These folks should have followed the advice above and rented a few rigs before buying one.
Case Study 1
We met a family that told us, they had no experience RVing when they sold their home and bought a 43-foot fifth wheel trailer. They had two small children and a dog, and they thought they needed all that extra space for their growing family. However, after they spent some time as nomads, they realized that the 5th wheel was much too large and they would have been happier in a rig half that size, but now they're stuck with this huge 5th wheel trailer.
Case Study 2
Another single camper was in a similar situation, but she had purchased a Sprinter Van. She realized (on her first trip out) that it was two small and too confining for her needs, and she was frustrated because now she was stuck with an expensive new RV that was too small.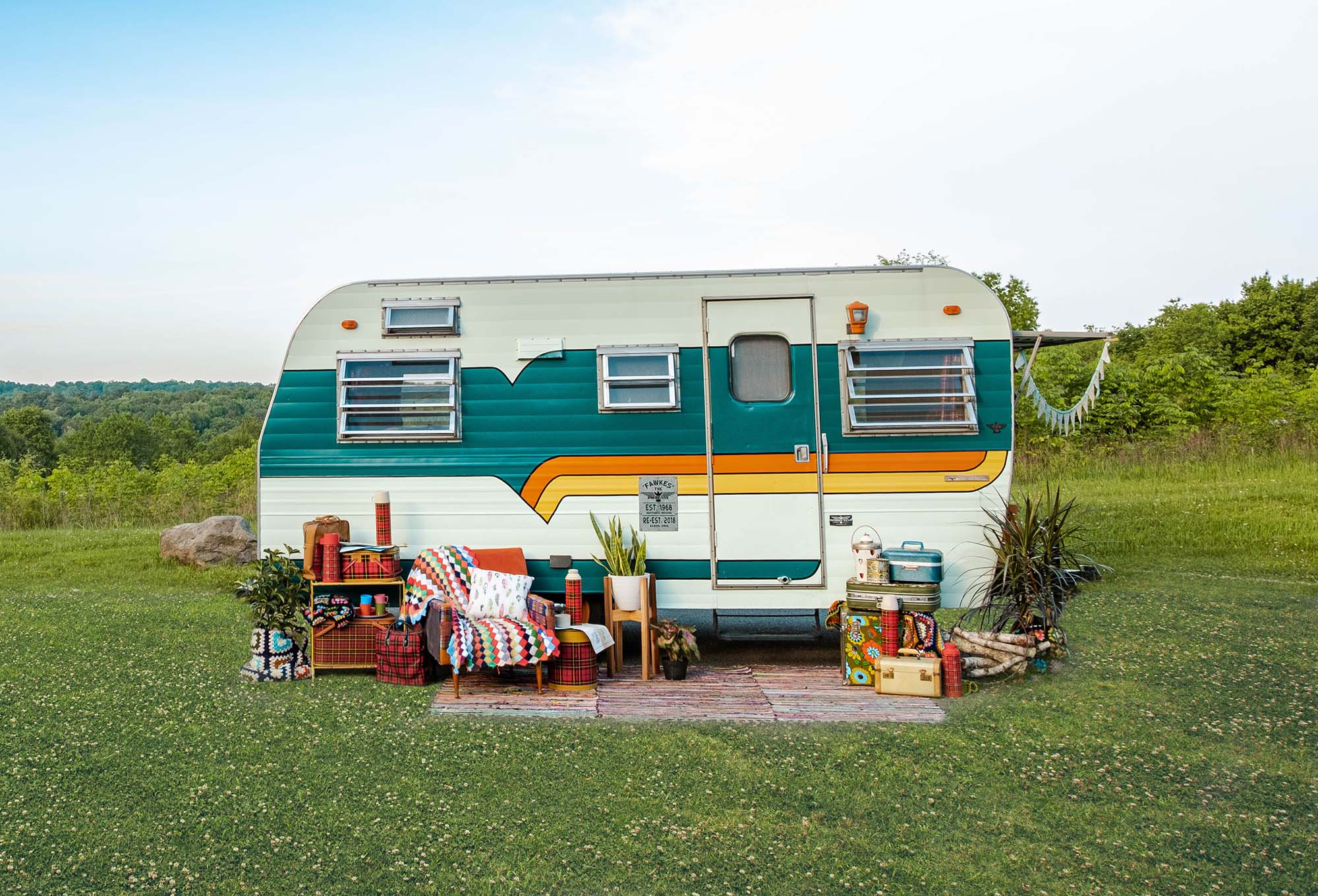 Case Study 3
We met an older couple who also purchased a van conversion for their full-time RV home, and after using it for a brief time, they were sure it was going to be too small, for two of them, and their two mid-size bird dogs. They realized that a van conversion best supports an outdoor lifestyle, but they were traveling in the Pacific Northwest where an outdoor lifestyle is much harder to maintain because the weather simply forces you to seek shelter for long periods of time.
Case Study 4
And finally, the most tragic of these encounters occurred in an RV park in Tennessee. We arrived about an hour after a 70-mile-an-hour straight-line wind event had swept through that part of the state. We saw many truck/travel trailers and semis blown onto their sides along the freeway. We knew this windstorm had hit the RV park, because we were on the phone, with them, when it hit. So, when we arrived and made our way to our campsite, we were not surprised to see trees toppled, branches on top of RVs, and personal property twisted, and scattered around the park. There was a man standing on the roof of the 5th next to us, and he was surveying the wind damage his rig had sustained. He was clearly upset, and in our conversation, we learned that he and his wife had sold their home and purchased this large 5th wheel trailer so they could pursue the full-time RV lifestyle. Unfortunately, right after they bought their RV they had a low clearance mishap, which caused significant damage to the trailer. They had just gotten that damage fix, and were heading south for the winter, when they got caught in the Tennessee windstorm. He was frustrated and anxious, but he told us his wife was an absolute nervous wreck. They both hated the RVing experience. They hated the uncertainty, the rootlessness, and feeling of vulnerability, and all the setting-up and breaking-down aspects of "camping". This 5th wheel was their first RV and he assured us it would be their last. They were depressed, angry, and regretful, that they had sold their home and everything in it. For this couple, full-time RVing wasn't the "adventure of a lifetime", it was a nightmare in which they were trapped.
Rent To Save Heartaches and Regret
If all these folks had just rented a few RVs, before making the commitment to buy one, they would have quickly discovered that a Sprinter Van might be too small, or that a 43' fifth wheel was too large, or in the case of the couple from Tennessee that they just didn't like the vulnerable, rootless feeling, of living in an RV.
Compelling Reasons to Rent
As you can see, there are two compelling reasons to rent an RV as opposed to buying one. The primary reasons to rent is when you only need one for occasional outings, or you intend to purchase an RV and don't know what type or size will meet your personal needs.
Even if you do not intend to use your purchased RV, as a full-timer, it is still wise to rent different rigs, before making a commitment to an RV purchase. We know of one couple who purchased five different types of RVs, in the first six years of their marriage, because they simply didn't take the time to understand what type of RV best fit their lifestyle.  They started small, with a pop-up trailer, then a truck camper, then a travel trailer and a 5th wheel trailer, and finally they purchased a 40' class A diesel pusher, which ultimately felt like the right fit for their camping style.
Cost of Purchasing an RV
When you buy an RV there are many financial issues to be considered, besides the initial purchase price of the RV.  Even if you purchase it outright, there will be ongoing expenses that will impact the long-term cost of owning an RV. If you don't purchase it outright, you will need to pay a significant down payment, plus monthly payments for the interest and principal. RV contract terms can extend for 15 to 20 years.
Extra Costs Associated with Ownership
Regardless of whether you buy it on time or pay for it up-front, you will still need to pay for RV insurance, and maintenance, and depending on your tolerance for risk, you might also need to purchase an extended warranty.  Much has been written about RV insurance, and I won't go into all of that in this article, but suffice it to say, that you will need liability, collision, and comprehensive insurance if your RV has an engine, and liability and comprehensive coverage, if it's a trailer or camper. Finally, if you can't park your RV on your property, you will also need to pay for storage.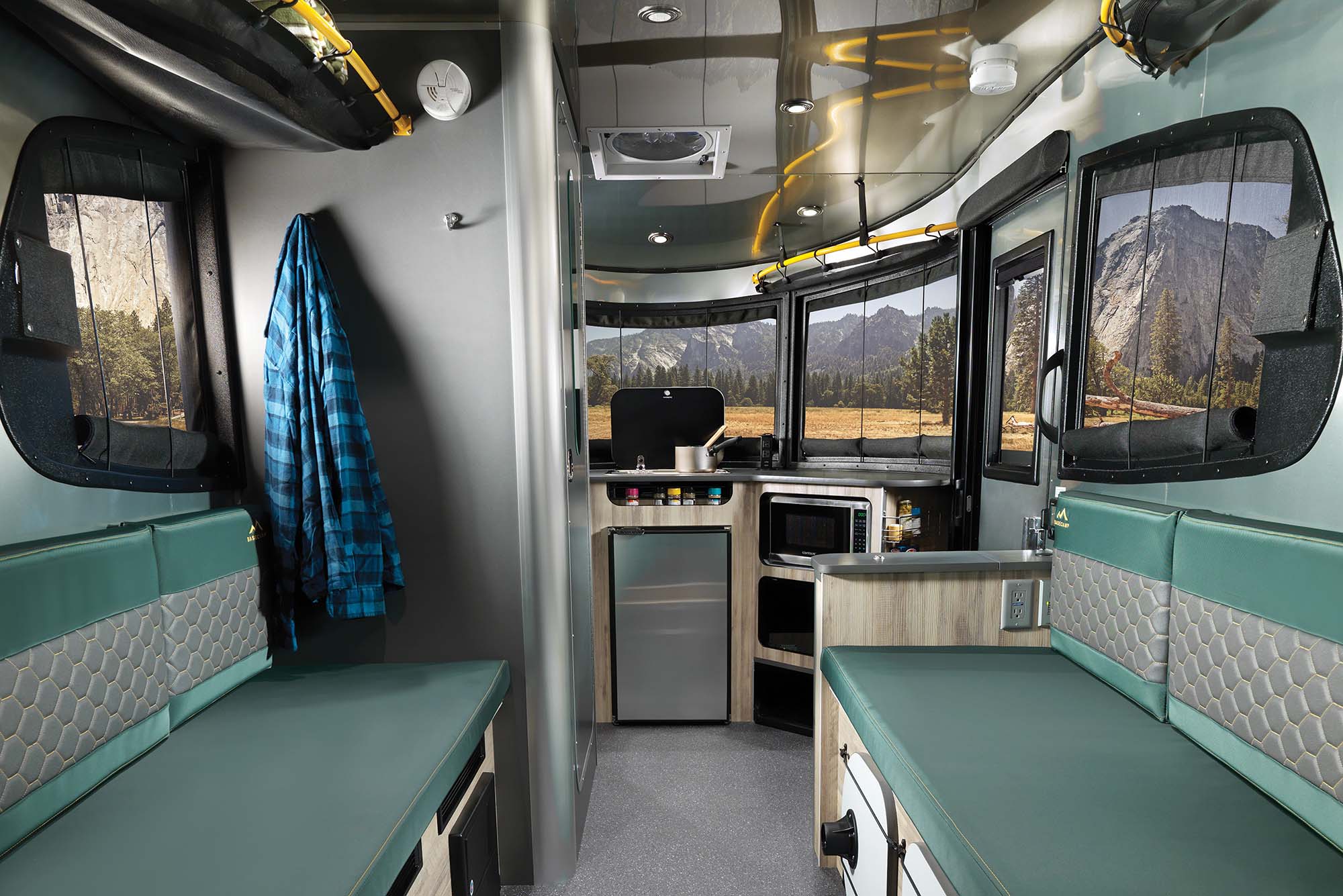 The Extra Costs May be More than the Purchase Price
All these extras do add up quickly and will increase the annual cost of RV ownership. If you are only going to camp in your rig a few times a year it would be prudent to follow the math example below to see if it makes financial sense, for you to purchase an RV. In addition to all the fees listed above, when you do go camping in your RV, you will probably also need to pay for campsites, and the gas and supplies needed for each camping trip.  RVing is a fun recreational or vacation option, but it is not necessarily a cheap option, whether you own or rent the RV.
Advantage of Ownership
The advantage of owning the RV is that it is a physical asset with real value.  It could be sold at some point in the future, or it could even be added to the rental pool, to become an income producing asset.  But it is not like purchasing real estate, which will appreciate overtime. RVs depreciate like cars, and with each passing year they become less valuable, so purchasing an RV as an investment is not a practical option.  However, all the reasons for owning an RV are not all financial.  Some people choose to purchase an RV for the convenience, and the comfort of camping in their own space. They can leave all their typical camping gear in the RV, so it's ready to go whenever they are. If they want to go camping on the spur the moment, they just need to pack some food and perhaps some extra clothes, and they are on their way.  RV Rentals from Outwanter can be obtained at the last minute, but it's not like having your own RV in the driveway with your fishing tackle, barbecue, kitchen utensils, and condiments already packed and waiting for you.
Range of Expenses
Large upfront cost: $5,000 – $1.5 million
Down payment: 10% - 30%
Monthly payments: $90 - $5000 monthly
Insurance: $60 - $5000+ annually
Warranty: $2000 - $20,000 up front (or payments for 24 months)
Maintenance: $200 - $7,000
Storage fees: $35 - $600 monthly
Camping fees: $18 - $250 daily
Depreciation: depends on the year, make, and model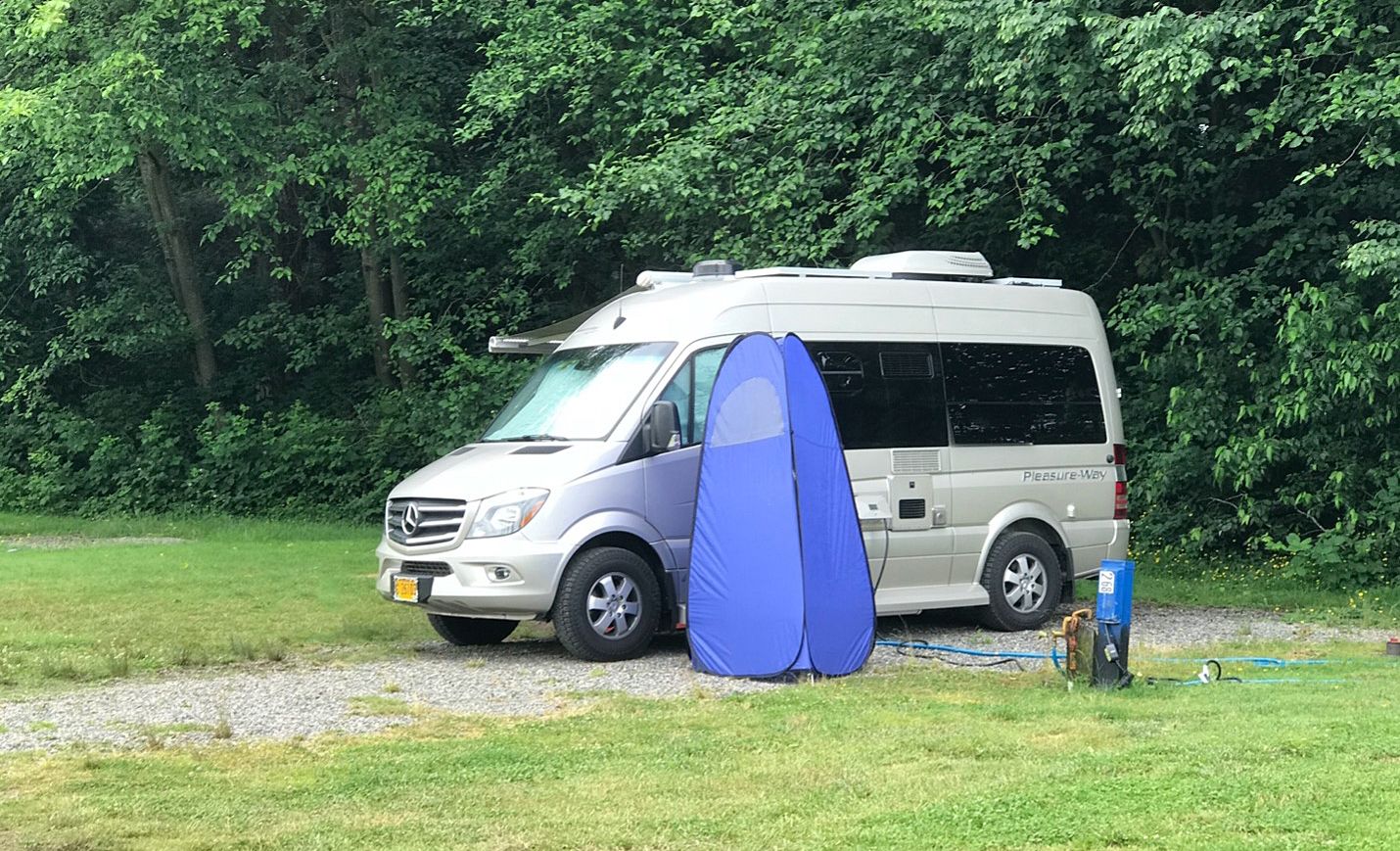 Rental Costs
The nightly fees for renting an RV can be substantial but it depends on what type of RV you are renting.  In addition to the primary rental fee the renter is also responsible for paying for insurance, and there may be overage costs associated with the use of the generator or excess mileage. On top of these rental fees, renters will be responsible for all camping fees, consumables, or supplies.  Also, renters will not have the physical asset, ability to sell the asset, or be able to put it in a rental pool, to create an additional income stream.
If a person rents an RV several times in a year, they will need to pack all their personal property for every outing.  But when the trip is over, they return the vehicle, pay any overage fees, receive the refund of their deposit, and they're done with it.  There are no insurance, warranty, or monthly payments due, there's no maintenance needed, no storage fees, no cleanup, and no further responsibility for the care of that RV. Renting is trouble free utilization of a recreational vehicle.  Renters can have the entire RV experience but leave the care and cleaning to others. Renters only pay for what they use, and if they only camp a few times a year it's affordable and trouble free.
Examples of Rental Fees
Refundable Deposit: $300 - $1000
Daily Rental Fee: $90 - $900 daily
Insurance: $25 - $50 daily
Generator Overage: $2 - $5 per hour (after first 4 hours daily)
Mileage Overage: $.35 - $.60 per mile (over first 200 miles daily)
Other Stipulations: Minimum daily rental may apply - from 2 to 7 days
Real Life Comparison on a 28' Class C Chateau Travel Trailer  - Own vs Rent
This comparison is between a using 2016 Class C Chateau, listed for sale on RVTrader, with a similar rental RV, listed on RVshare.
The Chateau for sale on RV Trader was listed at $54,000. With a $9000 down payment, the monthly installments on the remaining $45,000 would be approx. $332 @4% interest for 15 years resulting in …
Annual payments: approximately $4000
Annual Insurance: approximately $ 800
Maintenance: approximately $1200
Storage: approximately $850
Extended Warranty: approximately $3000 (optional coverage extends for 6 years, pay in 24 months)
Weekend Cost of an Owned RV
The listed annual cost (excluding the extended warranty) totals approx. $6850.  Therefore, if the owner takes this RV out for 10 week-end outings a year, the annual camping costs amortized over those 10 trips would be about $685 for each trip.  If, on the other hand, they only camp in it 5 times every year, the amortized cost for each camping trip would be $1,370.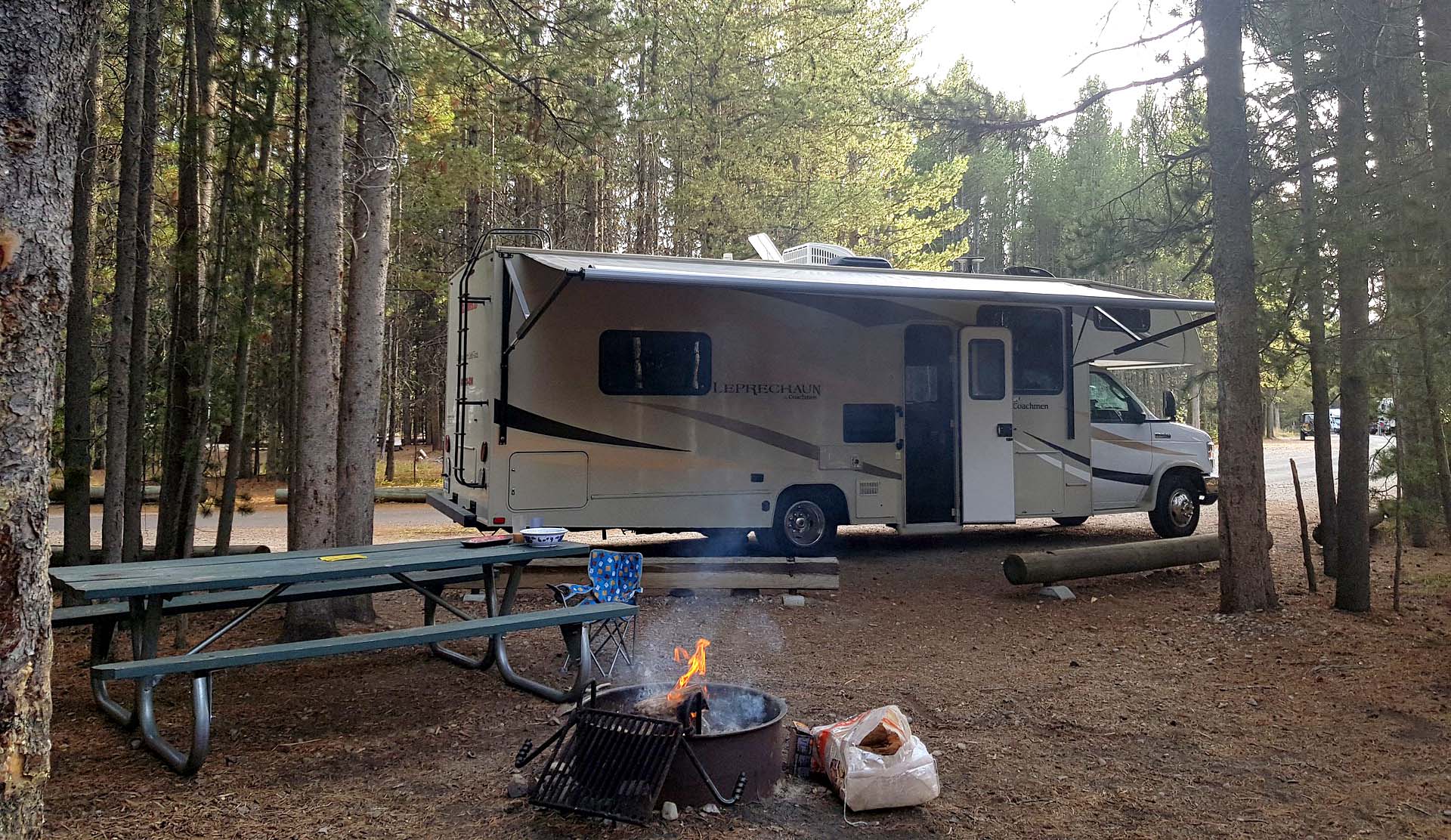 Weekend Cost of a Rental RV
A similar 28' Class A Chateau camper is available on RVshare for $215 per night. It has a minimum 3-day rental period. There is a $750 refundable deposit required, and a mandatory insurance premium of $30 per night. Therefore, renting that Chateau will cost $735 for each 3-day camping trip, plus any incidental overages on mileage or generator use.
From this you can see how the cost of owning an RV compares with renting a similar RV. This is strictly a financial comparison. Only you will know how important or unimportant convenience, privacy, and camping in your own space is, to you.
Do Your Own Math
This is just one RV comparison, based on one relatively inexpensive used RV for sale on RV Trader and a similar one for rent through RVshare. But you can see the logic in the math, and if you have an RV purchase in mind, you can figure this out for yourself.  But the bottom-line of this comparison was stated in the first sentence of this article.  The real issue of buying vs renting, is how much will you use your RV.  If you're buying it for just a few outings a year, and the rest of the time it will be sitting in a storage compound (certainly, we have all seen RV storage lots where it's obvious that many of the rigs have not been moved for years) then it doesn't make sense to purchase an RV. The vehicle will just deteriorate, need more maintenance, and diminish in value.
How Will You Use Your RV
If, on the other hand, you want the convenience of having your fishing tackle, barbecue, condiments, and favorite cookware, already loaded in your RV, and you'll be camping in it on-and-off all year, it makes perfect sense to purchase an RV.  How you intend to use your RV should be the determining factor of whether it makes more sense to rent an RV or purchase one.
---
Author: Peggy Dent
I am an author, writer, and full-time RVer, traveling around the US and Canada. I've driven over 130,000 miles in a motorhome, over the past 20 years, and I'm currently writing for the RV industry.