Are Campers and Travel Trailers the Same Thing?
The terms, camper and travel trailer are often used interchangeably in casual conversations but technically, these are two distinct types of RVs.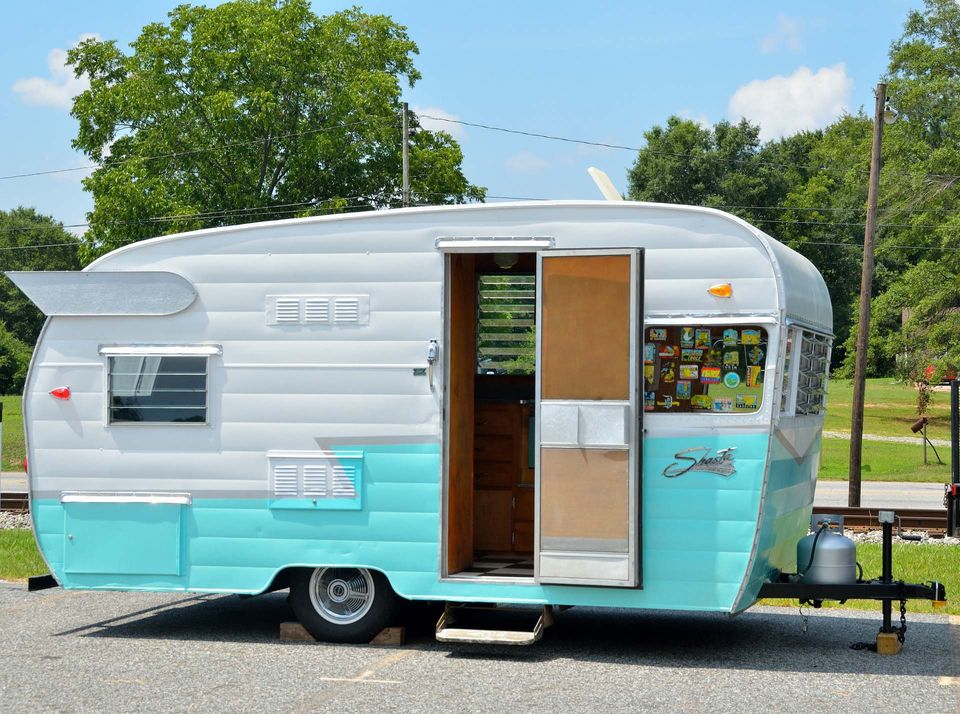 Difference Between Camper and Travel Trailer
The terms, camper and travel trailer are often used interchangeably in casual conversations and some RVers even refer to any RV as "their little camper," even if it's a full-blown land yacht, but technically, these are two distinct types of RVs.
Travel trailers are stand-alone RVs with one or more axles and are towed behind a car or truck. There is a huge selection of sizes, models, and floorplans in the travel trailer classification, and they are a popular and affordable choice.
A camper is an RV that does not have an axle. It is transported from one place to another on the back of a pick-up truck, and as such, campers are more limited in size and floorplans, than travel trailers.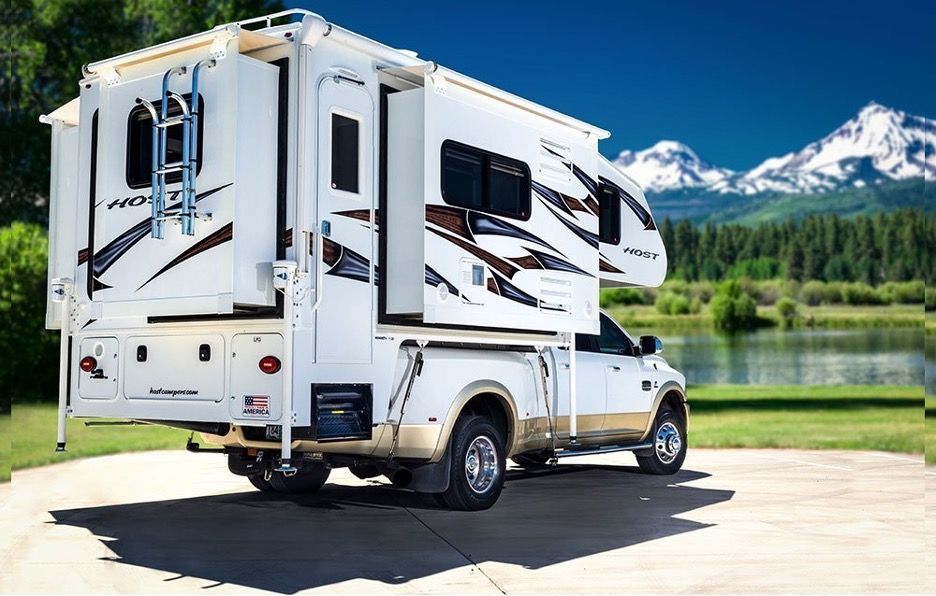 Innovation in Camper Design
Having said that, I must add however, that recent innovations in truck campers have created camper designs with slide outs and more livable space. Some campers even have bathrooms, galleys, fireplaces, twin recliners, king size beds, and many other features typically found in much larger trailers, fifth wheels, and motorhomes.  The Host Yukon 11.5 has 3 slide outs and 180 sq. ft of floor space. It's companion model the Host Mammoth 11.6 is similar in size and appointments.
The drawback of these large campers is the need for an even larger truck to haul them.  Both models are 19 ft. long, with 11 ft. of floor space. They only fit on a long bed pick-up truck with dual wheels. But to handle all the extra weight of these monster campers, the truck must be able to handle a 4,500 to 5,500-pound payload.
Mounting a large camper on a truck that does not have the right carrying capacity creates a dangerous imbalance that could result in damage to the truck and camper, or it could cause an accident.  If you're thinking of buying a camper be sure the carrying capacity of the truck matches the weight and dimensions of the camper.
Travel Trailers Offer Many Choices for All Camping Styles
Travel trailers on the other hand offer a huge range of styles and sizes.  The iconic tear drop trailer is one of the smallest trailer models, while the ever-popular Airstream brand comes in many different lengths and floorplans.  Airstream is one of the best known and most trusted travel trailer brands, year after year. However, there are dozens of different manufacturers that build a wide assortment of travel trailers including Jayco, Forest River, Coachman, Coleman, Keystone, and Grand Design, to name a few.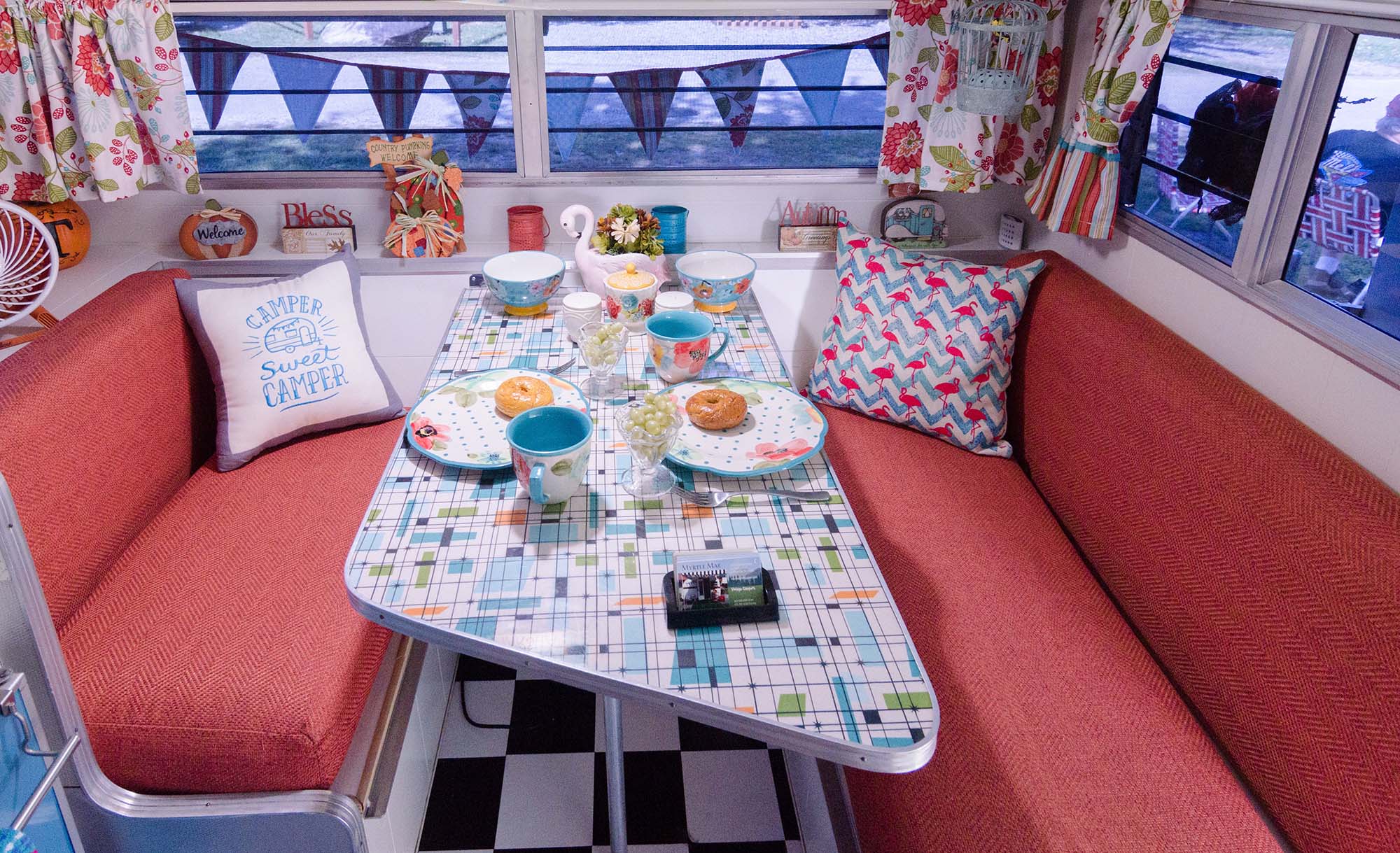 Vintage Travel Trailers
Vintage travel trailers are also very popular and many of these have been restored or replicated to reflect the early years of RVing.  Vintage RV parks offer vintage park models that are already set-up for rent, and vintage trailer clubs often meet and tour together. The people in these groups are passionate about their vintage RVs, approaching an almost cult-like devotion to their vintage models.
Travel Trailers Dominate All RV Classifications
Go to any campground or RV park and you are sure to see a disproportionate number of travel trailers to other types of RVs. This popularity is further evidenced by the fact that there are over 100,000 travel trailers listed for sale in the RV Trader database. The next closest classification are Class C motorhomes but there are only a third as many of those for sale as travel trailers.
Diverse Styles and Affordable
One reason travel trailers are so popular is the huge selection of styles to fit every camping need, plus travel trailers are affordable compared to motorhomes and fifth wheel trailers.  Additionally, some of the smallest super-lite travel trailers can be towed by a wide range of vehicles. Trailers are easy to set-up and break down at the end of a camping trip and they are warmer, dryer, and provide more protection from stinging insects than a tent or other outdoor camping options. You could spend $15,000 on a Jayco Feather or $170,000 on an Airstream trailer. The size, brand, floorplan, features, and costs are up to you. This classification of RV literally has something for every budget and every camping style.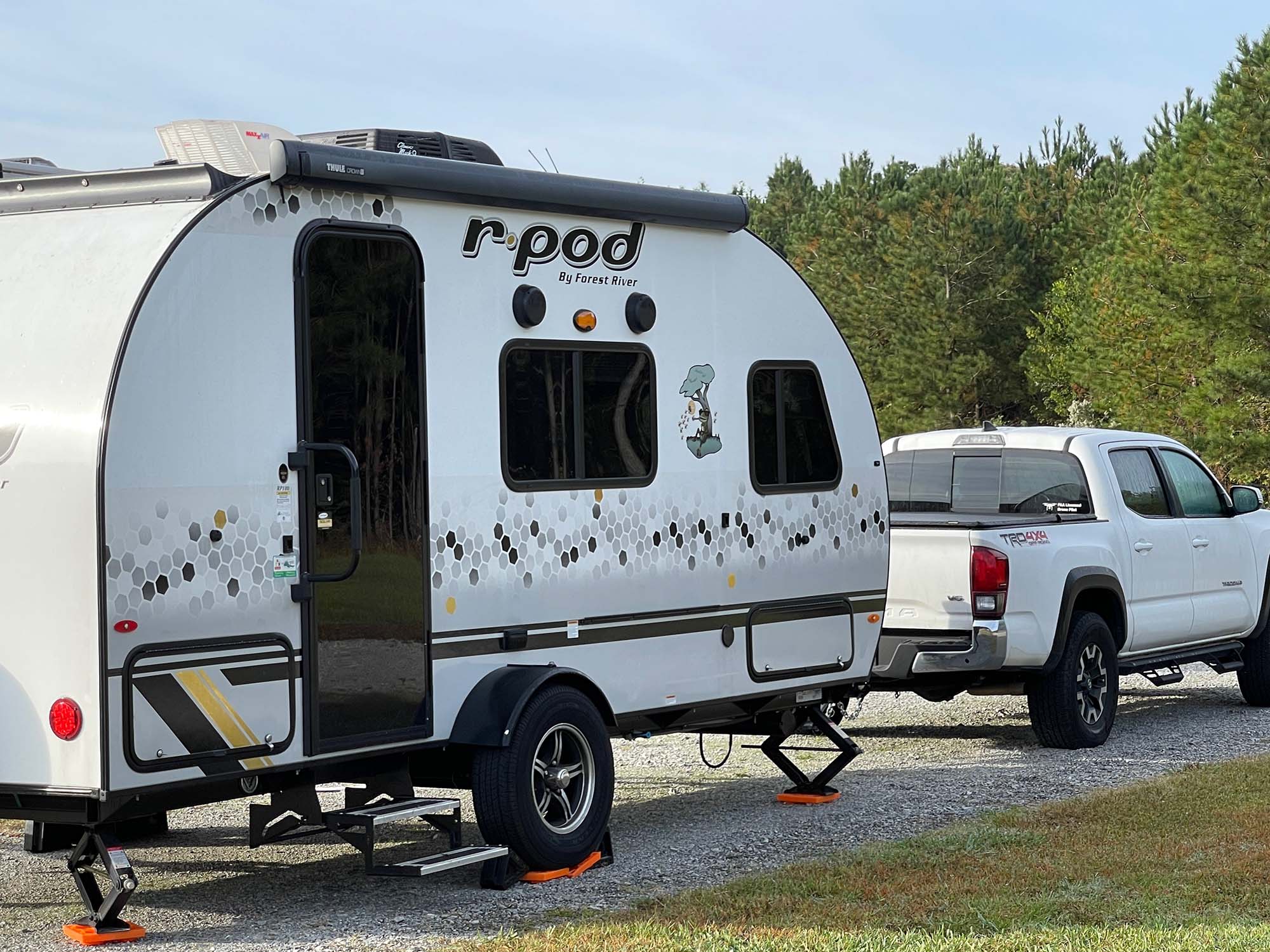 Travel Trailers – Many Lengths and Floorplans
Some of the largest truck campers may boast 3 slides, double recliners, entertainment centers, king beds, and 180 sq. feet of floor space, but many models of travel trailers have all that plus a large galley, outdoor kitchen, bunk beds, large holding tanks and a spacious bathroom. And unlike a truck camper, once a travel trailer is set-up the vehicle that towed it is available for sight-seeing or other outings.  It's true that a camper can be separated from the truck in a campsite, but it's a bit more difficult to remove and remount a camper, but travel trailers are usually disconnected from the towing vehicle, at every new campsite and are readily available for outings.
Towing Capacity
Diverse floorplans and affordability are the primary attractions of travel trailers, but like truck campers you need to match the towing capacity of the towing vehicle to the weight and dimensions of the travel trailer.  Some cars and SUVs have limited towing capacity so you should never put a heavy trailer behind one of those vehicles.  Too much overall trailer weight or an imbalanced load on the tongue, could damage the vehicles or cause a wreck.
Some travel trailers are quite large and can sleep 8 or more people and weigh more than 10,000 lbs. Trying to tow a trailer like that with a car or small SUV is simply not feasible. However, an F-series Ford truck and most Ram trucks are designed to tow heavy loads like a large travel trailer.
If you already have a car, truck, or SUV that you want to use for towing, do your research first, before you purchase a travel trailer.  Determine the maximum towing capacity of your vehicle, then shop for a travel trailer that will not exceed that weight after it's fully loaded. "Always know before you tow" is a great motto to stay safe when towing a travel trailer.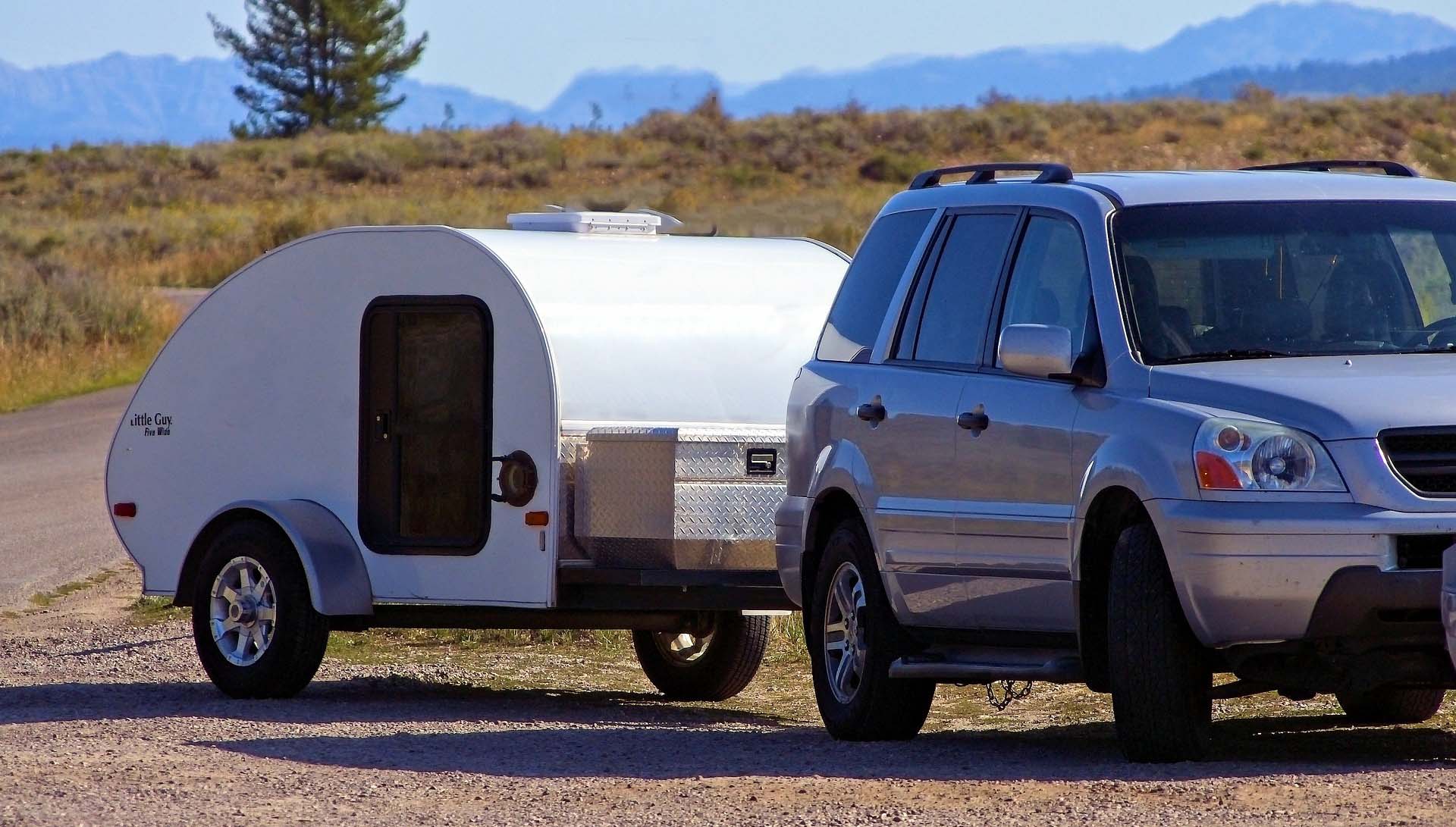 Match Towing Capacity or Payload to Your RV
Both campers and trailers offer exceptional camping environments and the modern versions of both have all the comforts of home, but you must be careful to use this equipment within the approved guidelines for each type of RV. Make sure the vehicle you use to tow your travel trailer has enough towing capacity. If you're going to purchase a truck camper, then make sure your truck has the appropriate payload rating to carry the camper.
Payload and towing capacity are two different characteristics of vehicles that you'll need to understand, to safely use either a travel trailer or truck camper.
Rent a Camper and a Travel Trailer to Learn More
If you're unsure which type of RV would work best for you, why not rent a camper then rent a travel trailer for a couple of weekend camping trips to see which one feels right for you.
Use the Outwandersearch tools to find campers and travel trailers for rent in your area.